Who we are and our values
Since the very start, our socks have always been designed in South Tyrol and fairly produced by small family run businesses in the Lombardy region. Keeping our supply chain as short as possible while guaranteeing maximum quality and comfort is very important for us and key to sustainability.
Inspired by the daily life our goal is to create timeless daily essentials while being environmentally conscious in doing so. We only use certified organic/recycled materials and believe that a long product life cycle is a main component of sustainability. Our aim is to supply high quality, long lasting, ethically crafted products while offering good value at the same time. But most importantly, we do not want to promise you more than we can give.
The WAMS team consists of a young group of friends, avoiding the old ways of hierarchy in a modern working atmosphere. All team members are conscious in choosing designs, colours, raw-materials, manufacturers and partners to create special and unique products.
We have a strong bond with our local territory and besides enjoying the awesome nature surrounding us, we are also consistently working together with local artists, hotels, companies and associations while also supporting social projects such as donations or fundraisers.
Our process
Since our foundation in 2013 maintaining high standards and a short, local supply chain were always essential: Local production, local logistics, local printing plant, local carpenter – local everything.
This is a very important factor, that is often overlooked. It reduces CO2 emissions significantly while it also provides growth to the local economy.
We only chose partners with a view to longevity and attach great importance that they meet our standards and share our values.
Our socks have always been 100% Made in Italy and produced by two traditional family run businesses in the Lombardy region. By taking up the ancient craft traditions combined with the use of current technology it gives our product maximum comfort while maintaining strong and durable structures like those of the past.
Our materials
We believe that our products are only as good as the fabrics they are made of. Our materials have been carefully selected and we commit to using only certified yarns, with a transparent, fair and sustainable supply chain.
Certification standards matter. Especially in the textile and apparel industry, in order to guarantee that manufacturers use sustainable production processes, environmentally friendly, and socially responsible working conditions.
We want to empower consumers to make informed decisions on the products they are buying order to reduce the harmful impact of production on people and the environment.
All our yarns are Oeko-Tex 100 certified. This means that the fabric has been tested and certified to be free from dangerous chemicals, known to be harmful to human health. It stands for customer confidence and high product safety.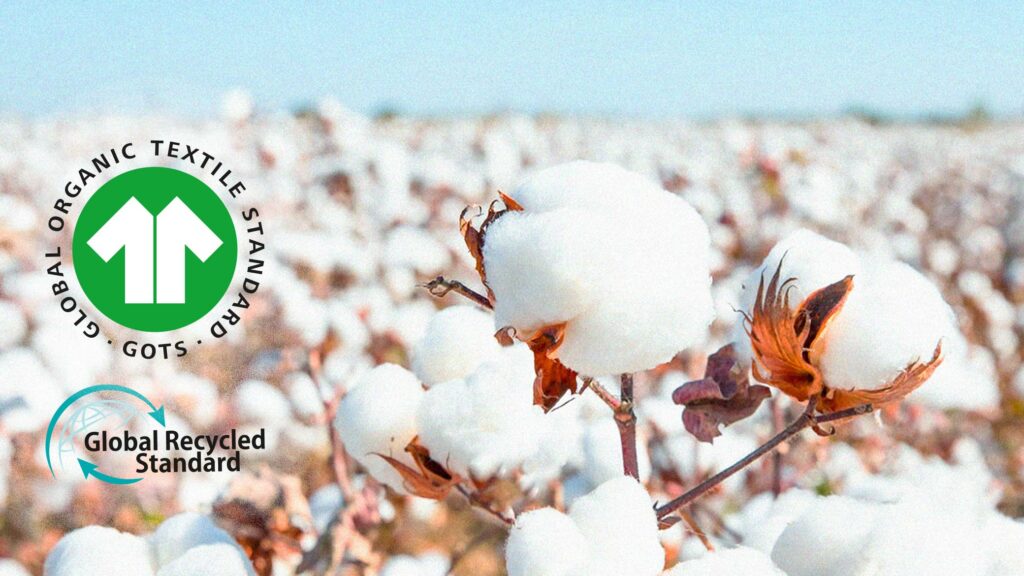 Our organic cotton yarns are GOTS certified. It is the world's leading standard in the textile industry, which covers a large number of high requirements for environmental and social criteria. Only products that consist of at least 70% organically produced natural fibers are allowed to carry the GOTS label.
GOTS-certified products give you the security that the textiles are manufactured sustainably along the entire production chain: starting with the extraction of the raw fibers, through environmentally friendly and socially responsible production, to the labeling of the end products. Because organic does not only belong on the plate, but also in our textiles.
Our recycled cotton yarn, used for our rib socks, is GRS certified. The Global Recycled Standard (GRS) confirms a responsible use of resources and processes that have the least possible impact on human health and the planet. It verifies recycled content in products and dictates social and environmental best practices, as well as chemical restrictions for fabrics, clothing, garments, accessories, and more.